FB Inbox Crap from PAEDO SUPPORTER Kerri Botelho... YAWN!
Note although the word "converstaion" appears, it is not as by definition a "conversation" is where a person speaks and others reply. Well I will I NOT be replying to this wacko, delusional, paranoid PAEDOPHILE SUPPORTING bitch!
::: Message Sent as dated & timed :::
You and Kerri Botelho aren't connected on Facebook
head birch in charge at Noneya Damn Business, Inc.
Studied at Hogwarts School of Witchcraft and Wizardry (Ravenclaw)
   Conversation started today
__________
Date: 07/08/2015
Time: 18:47 BST (received)
Kerri Botelho
NOW i, a mother of a disabled gay child who has had pedophiles from YOUR group solicit pictures from him, who is trying to protect my son from any FURTHER damage is on your pedophile watch list?
If you were truly trying to keep the internet safe... as i am...you would help me determine WHO was a pedophile.
My son had some 40 year old fkn pedo in another state offer to buy him a plane ticket to run away from home, and tried to convince him that i hated him because he was gay, gary.
This grown fkn man had him so fucked up my son tried to kill himself... my son had to be medicated and hospitalized repeatedly....
Instead of assuming shit, why not find facts?
Yep i have 3 facebook accounts.... all of them have been verified with facebook with identification to facebook. Even the one named kerris nothereanymore as it was registered to my legal last name at the time. And when i closed the account so my abusive husband could not harrass me, i opened this one with my birth name, that was legally restored by the courts.
The accounts on your list with Botelho and robillard are my family names, and i have documentation to prove it.
The person you know as andy west opened those 2 accounts, to help me, identify preditors that are preying on my son.
I have had the person you call andy west in my home Gary.....  you claim you are trying to protect children..... well so am i!!! I AM TRYING TO PROTECT MY SON!!
If you have proof that someone PHYSICALLY in my sons life is a pedophile, im begging you to help me identify them.  
Yep i have a few of the people on your list, as my friends....BECAUSE they are on my son's friend list....
After what john did to him, im a paranoid mother, trying to keep my son safe!!!
Instead of assuming im a pedophile. Or a pedophile supporter, maybe you could realize that when a mom gets involved its most likely out of protection...
If you are truly legitimate, and you truly have proof of the people that have been physically in my home with my 5 children (pj, and aw).... and proof that my sons other friends that you list are pedophiles, then please send it, and i will procesecute under the full extent of the law.....
You are accusing a mother of being a preditor, because she has been searching for truth for 5 years....
I simply dont understand how you can just assume something without talking to me or asking for proof.
This is insane... you claim to be trying to help.... then if thats true.... im asking for help instead of slanderous accusations about me.
Time to put your money where your mouth is sir.
If you were truly trying to protect children from being preyed upon....please help me help my son.
__________
Date: 07/08/2015
Time: 18:56 BST (received)
Kerri Botelho
Johnny wilson is also dan mc farlin... for your info.... i have an open police report on him
__________
Date: 07/08/2015
Time: 18:56 BST (received)
Kerri Botelho
Image sent, see below.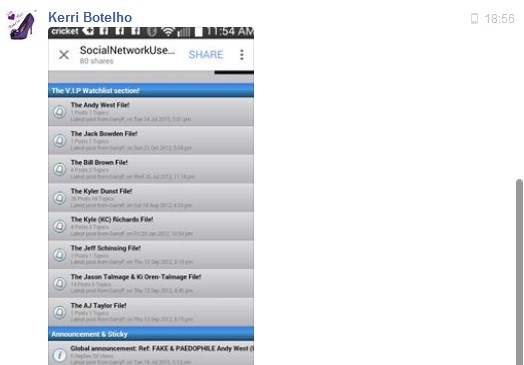 __________
Date: 07/08/2015
Time: 18:56 BST (received)
Kerri Botelho
Aj taylor is an adult...
I dont know about the other people.... but i can tell you i have met the man you call andy west.
You are missing john hertlerod, aka chip someone and celtic quest cafe.... john has been in jail 2 times for soliciting minors... been found in ahotel with 2 of them... served 10 years in prison and is waiting on sentencing for another... also goes by christina lemore...
Like i said... ive spent 5 years tracking down these assholes....
Im trying to protect my son
Im pretty sure dustin is an adult.... hes mentally desturbed, but i have no proof of him being a pedophile..... id like some if you have it because that asshole told my son that if i loved him id beat the gay outta him.
__________
Date: 07/08/2015
Time: 19:12 BST (received)
Kerri Botelho
Wait.... billy gormans on your list? Wtf??? Hes been my son and my friend on here for years..... hes NEVER approached my son..... please tell me what to look out for and why hes on this list.
I have home addresses of quite a few of these people... if you have proof... ill ho to the police!!!
__________
Date: 07/08/2015
Time: 19:12 BST (received)
AWAITING NEXT DIATRIBES!
---
Permissions in this forum:
You
cannot
reply to topics in this forum